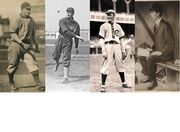 2020 Honorary League Commissioners
<<<double click the image to see 2020 Commissioners
In 2020, we are honored to have the grandsons of three of the greatest
Major League baseball players ever to play the game.

From Michigan: Darryll Williams, grandson of Dazzy Vance
From Colorado: Harry Heilmann III, grandson of Harry Heilmann
From Nevada: Tom Stevens, grandson of Babe Ruth

Here is a short list of their accomplishments....
Dazzy Vance won seven consecutive strikeout titles in the NL from 1922 through 1928. He also led the NL in shutouts 4x, ERA 3x, and wins and complete games twice each. He also was the NL MVP in 1924. He amassed a 197-140 record despite playing most of his career after the age of 30.

Harry Heilmann was a career .342 hitter. He won four batting titles in 1921, 1923, 1925, & 1927. He had over 2600 hits and over 1500 rbis in his career yet struck-out under 33 times per season. He batted .403 in 1923 and over the seven year stretch of 1921 to 1927, he hit a combined .380.
Babe Ruth led the AL in runs 8x, in home runs 12x, rbis 5x, base on balls 11x, on base pct. 10x, slugging pct. 13x, and hit .342 for his career. He played in TEN World Series. Oh yeah, he also pitched compiling a 94-46 record before teams decided his bat made him too valuable to have on the mound.
If those stats don't amaze you enough, just take the time to look up more about these incredible players and their feats.
Thanks to Mr. Williams, Mr. Heilmann, and Mr. Stevens for sharing this season as our players try to live up to the unmatchable standards set by their grandfathers.


**Each year we bring together a one-of-a-kind assembly representing
the greatest players ever to play the game.
In recent years we have had the families of:
Ty Cobb, Walter Johnson, Rogers Hornsby, Mel Ott, Jimmie Foxx,
Eppa Rixey, Mordecai Brown, Zack Wheat, Edd Roush, Joe Tinker, Eddie Plank