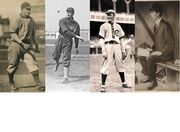 2018 Honorary League Commissioners
<<<double click the image to blow up and view
Our Majors this year are making a visit to the 1930's where two of the greatest power hitters of all time centered their careers. This year the daughters of both are serving as our honorary commissioners.
From Florida:
Nanci Foxx Canaday
, daughter of Jimmie Foxx
From Arizona:
Barbara Ott Schneidau
, daughter of Mel Ott
It was a different world for Major league players during the Depression, but their love of the game was no less. Growing up on farms or learning skills walking on gravel roads built ballplayers much differently than the way they are raised today. It has been my privelege to communicate with each of these women personally, each of whom have embraced our league's reverance for baseball's history and its great players. At the ballpark you will be able to view letters from each sent to our league detailing their father's history and ties to youth baseball.



To give you some small sense of what a rare pairing of players our commissioners represent, consider:



*Both were elected together into baseball's Hall of Fame back in 1951.

*When they retired they ranked #2 & #3 all time in Home runs behind only Babe Ruth.

*Together they combined for 20 All star game appearances, 1045 career home runs, and six World Series appearances.

During the season you will be able to see more extensive bios of the players on the "Remembering History" page.


Many thanks to our commissioners serving from afar. May our players honor their commitment to our league by playing with the spirit of their legendary fathers!!!