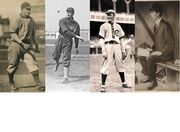 2017 Honorary League Commissioners


(2018 Commissioners coming soon)



<<<double click the image to blow up and view

In making our first visit to the 1910 - 1919 decade in the Seniors, we are honored to have five commissioners this year related to players who not only are Hall of Fame players of the era, but among the best players to play baseball all-time.

From California: Herschel Cobb, grandson of Ty Cobb
From Tennessee: Brad Hornsby, grandson of Rogers Hornsby
From Ohio: Eppa Rixey IV, grandson of Eppa Rixey
From Florida: Scott Brown, descendant of Mordecai Brown
From Missouri: Zachary Wheat IV, great-grandson of Zack Wheat


At a time now when players are winners of massive contracts and are put on restrictive regiments, here we honor players who played for limited pay while sacrificing their bodies every day playing the game. Each of these men have shared the stories of their ancestors, most from first hand contact. Whether it is Eppa Rixey relating how pitchers pitched until their arms fell off or the scarred legs of Ty Cobb from the sharpened spikes of so many opposing fielders, their stories relate a tough game played by even tougher men. It has been my privelege to speak with each of the men personally, all of whom have embraced our league's reverance for baseball's history and its great players. At the ballpark you will be able to view letters from each sent to our league detailing their ancestor's history and ties to youth baseball.

To give you some small sense of what a rare assembly of players our commissioners represent, consider:

*Ty Cobb is arguably the greatest left-handed hitter (.366 career average) and Rogers Hornsby is likely the greatest right-handed hitter in baseball history (.358 career average). Between the two they won 19 batting titles. Oh and Zack Wheat also won one. Cobb and Hornsby still are listed near the top in most hitting and base-running categories in the record books.

*Eppa Rixey held the record for wins by a left hander in the NL for years with 266. He pitched over 280 innings six times and 290 complete games. He also still ranks in the top ten pitchers all time in fielding assists

*Zack Wheat hit .317 over his 19 seasons. He ranks 5th in career putouts, 3rd in career assists, and second in double plays by a left fielder.

*Mordecai Brown overcame the childhood disfigurement of his pitching hand to become a dominant pitcher for the better part of two decades with 239 wins, a career 2.06 ERA (the sixth lowest in history), and 271 complete games. He also won twenty or more games six straight years.

During the season you will be able to see more extensive bios of the players on the "Remembering History" page.


Many thanks to our commissioners serving from afar. May our players honor their commitment to our league by playing with the spirit of their legendary ancestors!!!