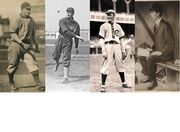 2019 Honorary League Commissioners
<<<double click the image to see 2019 Commissioners






This year we are honored to have family members of
four of the greatest Hall of Fame players in MLB history, who also each played in the Federal League.
Only six members of the Hall of Fame played in the Federal League altogether and we have four represented this year by their family members. Each has sent a letter to the league addressing the league as an honorary commissioner and talking about their ancestor's life and career.

The letters will be viewable at the park starting at Opening Ceremonies on May 18th.

From Florida:

Dr. Susan Dellinger

, granddaughter of Edd Roush

From Florida:

Tom Tinker

, grandson of Joe Tinker

From Pennsylvania:

Eddie Plank III

, grandson of Eddie Plank

From Florida:

Scott Brown

, descendant of Mordecai Brown

To give you some idea of the talent these four players represent...

Eddie Plank is the winningest left handed pitcher in American League history. He also won three
World Series with the Philadelphia Athletics in 1910,11, & 13 and played for the 1915 St. Louis Terriers in the Federal League. Joe Tinker & Mordecai Brown appeared in four World Series with the Chicago Cubs winning in 1907 & 1908. They also won the Federal League pennant in 1915 with the Chicago Whales. Edd Roush won the 1914 Federal League pennant with the Indianapolis Hoosiers before winning a World Series in 1919 with the Reds and two National League batting titles.



We thank our honorary commissioners and hope our players live up to the high standards set by their legendary ancestors!!!




**Each year we bring together a one-of-a-kind assembly representing
the greatest players ever to play the game.


In recent years we have had the families of:


Ty Cobb, Walter Johnson, Rogers Hornsby, Mel Ott, Jimmie Foxx,
Eppa Rixey, Mordecai Brown, Zack Wheat