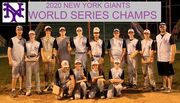 Hall of Champions (page 2)



paying homage to our more recent past



Majors


2020 Giants 14-5-1

***Our first ever trip to the 1920's slated five teams in the Majors. The Giants led most of the season with close competition from the

Tigers

, finishing with the top seed. In what was probably the most competitive series ever, the Giants had three 1-run wins and a blowout loss to the

Browns

in the preliminaries. In the semis they matched up against the 5th seed

Senators

and once again won by one run 8-7. This set them up in the final against the 4th seed

Athletics

. In the first 2 1/2 innings the Giants fell behind 7-0 before rallying for five in their half of the third. The

A's

continued to reopen leads afterwards that led to a 13-11 lead into the last of the seventh. There the Giants scored twice and with two outs used a walk-off rbi single to get their only lead of the night and their fifth 1-run win in the Series, capturing the title 14-13.
Seniors


2020 Expos 13-6-1

***The 2020 season took six teams back into the 1970's. The Expos never were in first all season but rose from 5th at one point all the way up to second to finish the regular season. In the Series they started with three come from behind wins over the

Rangers

,

Cardinals

, and

Royals

. In the semis they played the 4th seed

Indians

and again came from behind to win 8-6. In the Championship, they met the unlikely foe of the #6 seed

Royals

who had stunned the top seed

Padres

in the other semi. The final started with a scoreless first but the

Royals

jumped ahead 1-0 before the Expos plated 8 runs in the next two innings. From there the

Royals

clawed back inside margin and in the last inning after trailing 9-4, rallied for four runs before the final out was made with the bases loaded. The Expos winning 9-8 and getting the title.
Sunset
2020 Colt .45s 5-4-1

***The third Sunset season featured three teams from the 1960's and the largest number of players to date. The Colts started with two losses, a tie, and another loss getting off to an 0-3-1 start. From there they ran off three wins in a row and settled into second place heading into the league playoff. There they met the 3rd place

Dodgers

and won easily 11-2 before heading to the Championship against the top seed

Red Sox

. The Colts scored five times in each of the first two innings and led 10-1 going into the third. They were then stalled for a couple innings while the

Red Sox

closed to 10-4. The Colts then added four in the top of the fifth and held the

Red Sox

scoreless to win their title 14-4.