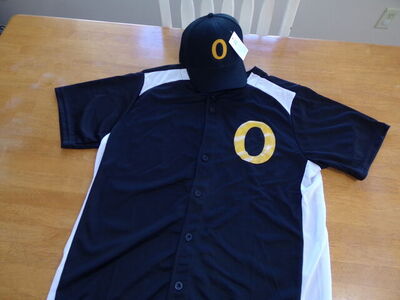 2021 Season
#1 Registration Update 4/14
A spot or two might be open in one league or the other. Call to either get in or on wait list in case of vacancies.


#2 Previews


See little daily updates on the facebook page including new uniform pics, infor on ceremonies and schedule, new honorary commissioners, and other fun tidbits.
#3 Schedule
Final set of pre-draft workouts on Sunday at Optimist. Draft coming up on Thursday the 22nd and then coaches will call to tell players what team they are on.
#4 Bats
Remember we play Wood bats only in the summer and they must be

ASH

or

MAPLE

: no composite, bamboo, etc. In the preseason players can use metal bats. The league supplies bats for the season so you don't have to buy a bat. I will have some bats made by Caleb who does field prep at a very reasonable price ($25 to $35) to look at during practices.
#5 Uniforms


All players will receive a cap, jersey, and socks eventually for their team. They are responsible for supplying the pants. In the Majors and Seniors we will tell you what color to get after the draft when we see who is on each team. In the Sunset league, players are asked to get gray or white but are not confined to one color on any team. Uniform distribution is listed on the Spring schedule tab, location and team times will be set later.


#6 Honorary Commissioners


In our sixth year of the commissioner program we have a fantastic set of people representing four of the greatest players baseball has ever known. See the commissioners page for details and make sure to read their letters at the park this season.


#7 Opening Ceremonies
Have announced our guest Anthem singer, Silas Johnson of the Johnson Strings. Special MLB guests this year will include former Royal Jim Eisenreich and former player/manager Bill Virdon.
#8 The Sounds of Summer
As we have been doing for the last number of years, we will have authentic audio of the decades at each park again the year. That means lots of early Rock and Roll in the 1950's Majors with bits of period audio and history mixed in. In the Seniors is it some of the oldest recorded music in history as we visit the 1900-1909 decade. There are also some more modern recordings of the Turn of the Century's greatest hits. In the Sunset, it is 80's music of all kinds. Hopefully we may have some new audio equipment at Barnhouse and at Optimist we will continue to use our little portable speaker system to pump out the "hits".
#9 Virdon Retro Fantasy League
You can continue to follow our winter league on the VRFL tab to get your daily fix of baseball and as you learn some history and how the league works, you might think about getting involved next year.
THANK YOU Website Visitors
On Dec 5th, 2019, we received the 450,000th hit on our mainpage. That's 50,000 hits in less than nine months. Thanks!!
Call Rob with any questions on the 2021 season
417-833-8788 or work 417-833-8088