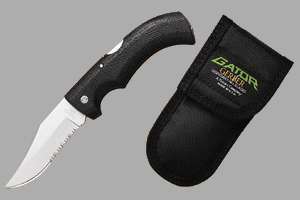 Click image to resize.
Gerber Gator Serrater with Ballistic Sheath
This is THE BEST PRICE on the internet for this particular knife and once they are gone they're GONE!!

Description: The Gerber Gator is one of the best folding knives you can own. Its handle design, mechanics, and assembly combine to make it superior to any other knife in its class. Patented handle technology sets this knife apart from all others. Soft Kraton rubber is molded around and through a Zytel frame, forming a one piece handle that is more durable than a metal knife handle, yet soft and comfortable to grip and use, even when wet. Unlike many other factory knives, Gerber uses pivot pins and fasteners that are precision machined rather than wire extruded. This makes for a much tougher, longer lasting knife. This item is covered by the Manufacturers limited lifetime warranty.
Specifications
Length = 8.75 inches
Blade Length = 3.75 inches
Weight = 5.0 ounces
Materials = Stainless Steel, Ballistic Sheath, Kraton®/Zytel® Handle TT>Specifications
Length = 8.0 inches
Blade Length = 3.5 inches
Weight = 3.0 ounces
Materials = Stainless Steel, Zytel®/Kraton® Handle.
Comfortable, soft Kraton rubber handle provides a sure grip even during wet conditions.
Only 4 Left!!