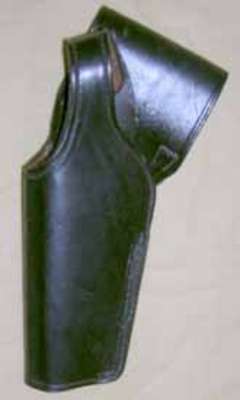 Click image to resize.
USGI Leather M9 Holster / Left Hand (Black)

Holster, Pistol, M9, Left Handed, Part Number 99A-lH-P, NSN Number 1095-01-212-0200. Original US GI left handed leather hip holster for carrying the M9 Pistol. Holster is a dull black finish and was contracted by Cathey Enterprises, a well known government contractor of high quality items. Holster is re-enforced with an internal steel liner to prevent distortion of the leather. Overall condition is approximately 95%, or almost new. If you are that 11% of the population that is left handed and own an M9, this holster is for you.
In the picture, it looks like brown leather. I can assure you that it IS black leather.
Last one!