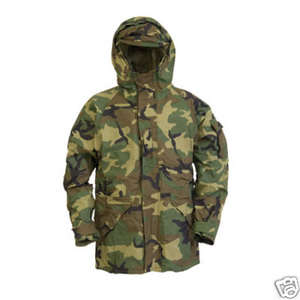 Click image to resize.
USGI Woodland Camo Gortex Jacket (Small Regular)
-  Breathable Goretex material keeps you very warm and totally dry, yet very breathable. 
-  Full front zipper with overlapping snap buttoned front keeps you completely dry and keeps your body heat in.
-  Drawstring hood and waist.
-  Velcro cuffs allows you to close arm sleeve ends to keep more heat in and keep more precipitation out.
-  Zipper underarms used as vents.
-  Completely waterproof
Only 1 Left!!