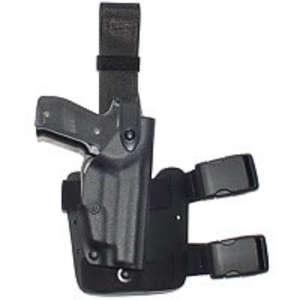 Click image to resize.
Safariland Tactical Thigh Rig, Right Hand, Black
For Beretta 4.9"bbl, 92 (Brigadier FS,F,FS,G) 96 (Brigadier G,G) 4.3"bbl, 92 (FC,FCM FS Centurion), 96 Centurion
The Safariland model 6004 tactical SLS holster is built for comfort as well as functionality. This holster features the SLS rotating hood system which is so well suited for the tactical situations encountered today. Since there is no snap, the "SLS" allows for a smoother single-motion draw and greater protection against attempted weapon takeaways and provides reliability in the unpredictable conditions that occur during tactical operations. The hood can only be released by being simultaneously pushed down and rotated forward and actually becomes more secure when upward force is applied. It is also far less likely to release accidentally than conventional thumb break snaps. The Tactical Finish of the holster is rugged, protecting the gun in scrape, scratch and dent incidents. The thermal-molded Safari-Laminate construction protects the gun, unlike a nylon holster, which can allow dents and dings to smash right through in tough conditions. Molded sight track and soft orthopedic suede protect the gun's sights and finish. A special feature of the Model 6004 is the double leg strap and the leg shroud. These two features combined equal comfort and stability in the holster position on the leg. The leg harness is lightweight and simple to operate.
Only 2 Left!!