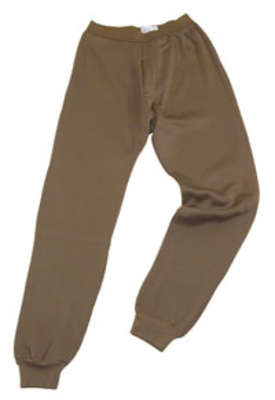 Click image to resize.
Large Olive Drab ECWS Polypropylene Bottoms - New

Mil-Spec cold weather drawers have convenience fly, elastic waistband and knit cuffs. Expedition weight thick 100% polypropylene makes them the standard for insulated cold weather wear.  Silky smooth comfort is obtained by using 100% texturized filament yarns, brushed to a thick, fleecy inside nap. Polypropylene hates water, so body moisture is constantly wicked away from the skin - keeping you drier and cozier in bad conditions. Mil-Spec fabric weight: 10.5 oz per square yard.
U.S.A. fabric assembled in USA or Honduras.
Qty: 1