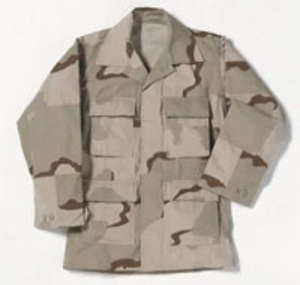 Click image to resize.
LG-Reg DCU Tops - Surplus, Used, Great Condition
The 3-Color DCU Jacket is made of enhanced nyco rip-stop and features 4 bellows pockets, reinforced elbows, concealed buttons, and adjustable sleeve buttons.
Height:  67" to 71"
Chest:  41" to 45"
 All Tops are used surplus in great condition.  They may have name tags and patches, but all items are great condition..
 Qty:  5