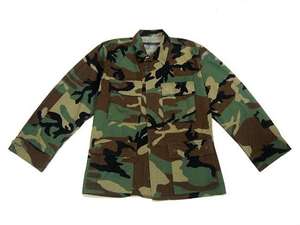 Click image to resize.
Large-Regular COTTON BDU Shirts - Surplus, Excellent Condition
-  Cotton
-  4 Bellows Pockets
-  Adjustable Sleeve cuffs
-  Height from 67" - 71"
-  Chest from 41" - 45"
Qty: 2
The item pictured is an EXAMPLE of the what we are listing. Conditions (fading, scuffing, etc.) may vary slightly from this picture. We review every piece before we list items in good condition but occasionally we miss something. Unless stated otherwise, these are used items which sometimes contain writing such as soldiers name on the tag, unit insignia, name tapes, etc. As such, these used items may (but not likely) contain small defects that don't affect the usage of the items and were not immediately visible to us. We make every effort to ensure correctness, currency, completeness of information detailed in our listings. We cannot, however, assume any liability whatsoever for the information offered. We reserve the right to modify or update the information provided at any time without further announcement. It is the responsibility of the buyer to ascertain and obey all applicable local, state, and federal laws in regards to possession and use of any items that are offered for sale by the Armed Bear Armory, or its principles. Consult your local, state, and federal laws before ordering. By placing an order, the buyer represents that the products will be used only in a lawful and entirely safe manner. In addition, the buyer assumes all liability concerning the use or misuse and or possession of products offered for sale by the Armed Bear Armory or its principles. The Armed Bear Armory and its principles shall not be liable for any damages arising from the use or possession of the products offered for sale.