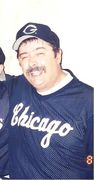 Welcome to Romano's Bullpen
***Sponsored by Papa Murphy's Pizza & Play it Again Sports
Starting at the beginning of the regular season, we will once again be using gentleman George and his vast knowledge of baseball stats in our annual trivia contest and history pages. George managed 10 years in the Crystal Lake & Lake in the Hills, Illinois leagues for players 15 to 19 years old.
Week Ten Trivia Answer:
Ralph Houk was a Yankee player and manager who won a purple heart and silver star while serving in World War II.

guessed correctly first by:
Jesse Askin of the Mets
Thanks for Playing, see you in 2020!!!
*use the "contact us" link to submit your guess

*First correct guess each week wins *emails submitted from the site are date and time stamped.
*a new winner is chosen each week unless only previous winners guess correctly.
*weekly prize package includes a large pizza from Papa Murphy's, a $10 gift card courtesy of Play it Again Sports, and a baseball cap from existing league stock.
***Participants are limited to summer 2019 players in the Metro league.