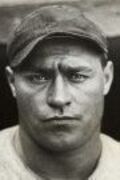 Remembering History
*sponsored by the Kansas City Baseball Historical Society, the St. Louis Browns Historical Society,
& Play it Again Sports
As a companion piece to Romano's Bullpen, Marie Smith will give us info on players from some of our teams of the 1920's and 1970's as well as stadiums and baseball events of the eras. Check in twice each week, learn and remember, and if you are picked out at the park and answer correctly you may win a nice prize.
The Babe

Fun facts about Babe Ruth whose grandson is one of our honorary commissioners this year....
*spoke german and english since his family was of german origin
**was one of only two of eight children in his family to survive past infancy
***was sent to a Catholic industrial school where he learned to be a tailor
****despite being left-handed, started out as a catcher and infielder
*****would wear a frozen cabbage leaf under his cap on hot days
******was in first class to enter Hall of Fame with Ty Cobb, Christy Mathewson,
Walter Johnson, and Honus Wagner
*******was laid in Yankee stadium for two days when he died and visited by 77,000 people
How it works:
About twice each week info will be posted on a player, a ballpark, or an event. Players will be randomly asked a question on the page at the park and if they answer correctly they win a small prize (giftcards, old baseball cards, etc.)
So stay up on your history.