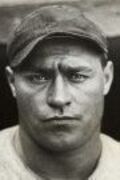 Remembering History
*sponsored by the Kansas City Baseball Historical Society, the St. Louis Browns Historical Society,

& Play it Again Sports
As a companion piece to Romano's Bullpen, Marie Smith will give us info on players from some of our teams of the 1930's and 1950's as well as stadiums and baseball events of the eras. Check in twice each week, learn and remember, and if you are picked out at the park and answer correctly you may win a nice prize.
Willie Mays' Catch

With the game tied 2-2 in the eighth inning of game one of the 1954 World Series, the Indians had runners on first and second with one out against the New York Giants. Vic Wertz of the Indians hit a 425'+ drive to dead center that centerfielder Willie Mays sprinted straight back to make an over the shoulder catch of before the deep centerfield wall of the Polo Grounds. The Giants went on the win the game and sweep the Series.


**
How it Works
:
For Example while information is running here on Duke Snyder, a player may be randomly asked at the park to identify what team he played for or what position he played. If he answers the question correctly he will win a prize.
So stay up on your history.