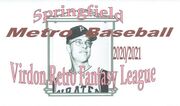 The Bill Virdon Retro Fantasy League

Starting up again in Fall 2018, we will do our third annual fantasy league that runs 22+ weeks every night on the website.
Draft a team of Hall of Fame players and play games nightly seeking a trip to the World Series and earn a prize package including two custom made wood bats, two caps, and the VRFL Championship plaque.
Teams go up for sale later in the year for a $50 tax deductible donation to the Little Guys field fund.

It's Fun, It's a great history lesson, and it helps fund the field
Ask for more information at the ballpark...

2018/2019 Draft Order
1

White Sox

2

Phillies

3

Browns

4

Red Sox

5

Braves

6

Reds

7

Dodgers

8

Pirates


9

Cubs

10

Cardinals

11

Tigers

12

Athletics

13

Senators

14

Indians

15

Giants

16

Yankees